This is the second part of 'Clash of the Fashion Titans,' an ongoing series from FashionUnited that compares key fashion retailers from around the world. H&M and Forever 21 are two fast-fashion retailers who have won over fans across the globe with their affordable and stylish collections, and are poised to capitalize on the growing potential in international markets.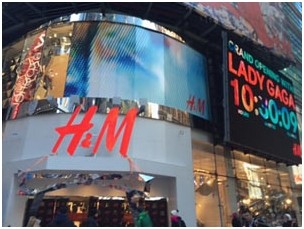 Internationalisation is a top priority for European and American fashion retailers alike. One leading fast-fashion retailer who has been hard at work ensuring that their main brand becomes a globally dominant name is Hennes & Mauritz AB (H&M). According to the 'Apparel insight deck' report published by Planet Retail, retailers need to continue expanding into international markets and 'reduce dependence on their home markets' in order to stay ahead of competitors. H&M has been reliant on their European market for a long time, but over the past few years the company has realized the potential of internationalisation and has been expanding into foreign markets around the world. With the company currently being viewed as the second largest fashion retailer in the world, it comes as little surprised that 95 percent of H&M's total sales for 2013 come from its international markets, with the US becoming the second largest individual market for the Swedish-based fashion retailer. Planet Retail predicts that by 2017 North America will become H&M's key market by value.
Advertisement
US the second largest market for H&M
Ashma Kunde Apparel analyst at Euromonitor International, believes that it is mainly due to "aggressive store expansion" that the US has become H&M's second largest market, following Germany in 2012 in terms of number of stores. She notes that finally "opening its e-commerce site in the US (after delaying the launch twice) has certainly strengthened its position in the market." Kunde adds that the company's "product and pricing hold it in good stead with the country's teen population.The challenges of teen retailers including Abercrombie & Fitch, Aéropostale and American Eagle highlight that American teens are eschewing the 'preppy' polo shirts and hoodies for fast fashion alternatives." US teenagers have changed their fashion taste buds over the past years and prefer to spend their money on valuable, yet fashionable pieces instead of classic, branded pieces. Isabel Cavill, senior analyst at Planet Retail echoes Kunde's sentiment and states that H&M is doing "quite well in the US and has a number of stores across the country that are selling well," with its US sales having grown 18 percent from 2008 to 2013, to approximately 1.6 billion euros.
However, Cavill points out that the delayed launch of its online stores caused H&M to fall slightly behind other fast-fashion retailers in the US, who were quick to embrace online stores as well as brick-and-mortar stores. One Los Angeles-based fashion retailer who has fared well in the country, despite the economic crisis, is the privately owned Forever 21. Although the fashion retailer only has roughly one fourth the number of stores as H&M (Forever 21 currently has 610 stores/outlets around the world, while H&M has 2.891 global stores), Cavill says that the retailer's strength lies in "the large number of fashionable items" it offers, with a "wider range of styles" than H&M. Forever 21 have also chosen to model a number of their stores after their online store, creating special flagship stores known as XXI Forever that house all its collections and ranges, another key point of growth for retailers according to the 'Apparel insight deck' report.
Forever 21 fast-fashion model sets it apart from other US teen fashion retailers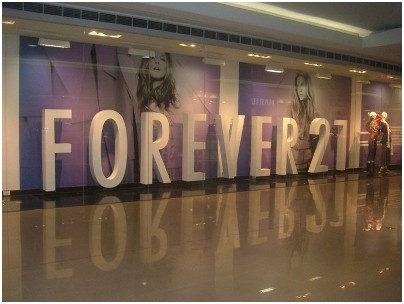 Forever 21 has been "following a fast fashion model from the onset, so it has not faced the same difficulties as other teen retailers like Abercrombie & Fitch, Aéropostale and American Eagle Outfitters," adds Kunde. This is reflected in company sales, as business and financial news agency Reuters reported company sales had increased 82 percent from 2007 to 2012, with a reported revenue of 3.4 billion dollars for the year 2012. For the year 2012, H&M reported a turnover of 141 billion Swedish Krona, which is equal to 15.7 billion euros reinforcing the notion that fast-fashion has become even more popular over the past few years. Athough both companies have done well with their adaptations of fast-fashion, Forever 21 "is likely to feel pressure from H&M and Zara as they continue to expand in the US," believes Kunde, with H&M implementing an "above average" store opening scheme for 300 new store openings in the US for 2013. H&M recently opened a 42,000 square-foot flagship store on Times Square in New York City, which makes it the twelfth store in the city to date and plans to open two more flagship stores next year, with the one in Herald Center set to become the world's largest H&M store. This move from the Swedish-based fashion retailer shows their dedication to internationalisation to ensure the company keeps growing in the US market, but also underlines H&M awareness of competitors in the market, like Forever 21 who opened its flagship XXI Forever store on Times Square back in 2010.
Another way H&M has managed to set itself apart from its competitors and "garnered significant attention," is via its "high-profile designer collaborations and celebrity-fronted marketing campaigns," says Kunde. Although Forever 21 has stepped out and launched a few designer collaborations of its own, such as the Mel for Forever 21 capsule collection for Spring 2013 with Brazilian footwear company Melissa and recently hired British model Atlanta de Cadenet for its Autumn/Winter 2013 campaign video, their advertising campaigns and collaboration collections fall short in comparison to H&M's marketing efforts.
Forever 21 prefers to use social media platforms, such as Facebook, Instagram and Twitter to connect with their consumers. Kristen Stickler, PR manager for the company, previously revealed in an interview that Forever 21 has "never indulged in huge advertising campaigns like other market players." However in the future the teen retailer may have to turn to more lucrative advertising to be able to contend with H&M, as launching its own spin-off collections of H&M's designer collaborations, like its Bohemian collection which was released the same day as Isabel Marant for H&M, may only lead to yet another copyright lawsuit. The LA-based fashion retailer has a checkered past of copyright lawsuits and has been accused of copying designer pieces ranging from Vivienne Westwood to Anna Sui to Betsey Johnson, but the controversies shadowing Forever 21 do not seem sufficient to discourage shoppers from visiting their stores.
With the promise of new fashionable items in store each week and low prices, these fast-fashions retailers appear to have dominated the US market, but how are they faring in other foreign markets overseas?
H&M diversifies itself to stay ahead of competitors
The Swedish fashion retailer may be doing well in the US market, but Kunde says that "in its home and European Market, H&M appears to be struggling against competitors like Primark and Zara, especially in Germany; one of its key markets." In order to distinguish themselves from other fast-fashion retailers, H&M has developed a number of business strategies and is using them in rapid succession. "Apart from the designer collaborations, H&M has been launching its own, more premium collections – e.g. Mauritz Archive, Paris Fashion Week collection. Furthermore, the launch of & Other Stories suggests the company is looking into higher price tiers as price competition intensifies at the economy end of the market," says Kunde. Last week, H&M announced an Exclusive version of its Conscious collection set to launch Spring 2014, created in collaboration with sustainable think tank "Ever Manifesto." Furthermore, H&M is currently diversifying its brands even more as the company introduced a new concept for its Sportswear line, which was developed in collaboration with professional athletes from the Swedish Olympic team. Cavill states that "H&M is right to diversify itself" so it can keep renewing its image and keep consumers on their toes with new designs, collections and collaborations.
On the other hand , Forever 21 only operates via its eponymous brands that it offers in a number of different stores, "whereas both H&M and Inditex operate across a number of brands across the price spectrum, enabling them to capture a broader consumer base," argues Kunde. Although the US-based retailer offers a men's wear line, numerous women's wear lines, including a plus sized range and a girls collection, as well as footwear, accessories and beauty products, all these lines are ultimately part of the Forever 21 brand. In comparison, H&M has its home brand that is divided into a series of collections alongside a number of outside brands, such as its higher-end counter part COS, Monki, Cheap Monday, and & Other Stories.
Therefore when it comes to expansion, Forever 21 can be limited to the number of stores it opens because it only operates under one brand, while H&M operates numerous. Cavill points out that even though Forever 21 first entered Europe in 2010, with its first store opening in Ireland, the company only has a "handful of stores opened" currently and adds that the store concepts do not make the best use of the retail space offered in Europe. For example, 18 months after Forever 21 opened its store in Birmingham, the company announced that it was sub-letting part of its retail unit in the city's famous shopping center the Bullring. The American fast-fashion retailer may be "better suited to opening stores in shopping centers who wish to offer an alternative to Primark," believes to Cavill. Nonetheless, Western Europe is still "a good fit" for Forever 21, counters Kunde, as "there is still a strong appetite for value clothing...despite intense price competition and fragile macroeconomic conditions." Kunde believes that "Forever 21 is able to compete [in the European market] due to established brand name, compelling in-store environments and an extensive range of fashionable product."
Forever 21 has potential to succeed in Southern Asia One foreign market Forever 21 could really excel in, is Asia. Both analysts feel that especially regions in Southern Asia could hold real potential for growth for the privately owned company. The LA-based fashion company was founded by a Korean couple in 1984 and Cavill says that "the products do have a slight Asian feel and touch to them." She sees real potential for the brand to flourish in Asia, especially in the Philippines, where Forever 21 opened its first store in Manila this month in addition to its eight existing stores in the country, ahead of H&M who have yet to expand to the Philippines. (H&M signed a lease for its first retail unit in a mall in Manila last month.) "Culturally the brand should fare better there than H&M, as the mentality there is very American," states Cavill.
Forever 21 is no stranger to the Asian market and the fashion retailer is ready to expand in India once more, armed with a new partner to help open 40 to 50 new stores in the country over the next five years, alongside plans to lower its entry level prices to win Indian shoppers over. "Look at the population of both India and China, it's huge... and... young too. This is a big opportunity. We hope to add 300-500 stores in Asia in the next five to seven years," said Do Won Chang, founder and CEO of Forever 21 at the launch of the second flagship store in Delhi earlier this year. Although Forever 21 is present in China, with three stores in the country and one in Hong Kong, the company made a wise decision to re-introduce the brand to the Chinese market using an online platform. The company teamed up with Tmall.com to launch its official online store at the same time as its Tmall 'flagship' store end of December 2011, in order to increase brand awareness among Chinese consumers before opening a number of physical stores. H&M is also keen to continue expanding in its Asian markets, beginning this month H&M received final approval from India's government to open a number of stores across the country and reported increasing profits in September which were due to its strong growth in Asia.
"At the global stage Zara is more of a threat [to H&M] than Forever 21, as the latter does not have the same level of international presence," concludes Kunde. She believes that the US-based fast-fashion retailer does have the potential to become a globally recognized brand like H&M, "but it has a long way to go. It is currently lagging behind H&M in terms of store expansion and marketing, and will have to do a lot more in terms of brand-building activity if it wishes to reach the same level of global recognition. It is interesting to note that Forever 21 has a first mover advantage over H&M in the strategically important market of India, but it doesn't seem to have capitalized on this yet."
Vivian Hendriksz
Photos: Forever 21 store in Philippines, H&M Flagship on Times Square, Forever 21 winter collection, H&M winter collection.